Tuesday, November 30, 2004
nine years is a long time to spend without you, but i will always remember, don't you worry. and we're on for 'chandan sa badan', i might be a little late but i don't think you'll mind too much :)
other than that: YAY FOR ME! 'tis been
such
a loverly day, AND it rained all night- special for me i says :D yay for meeeeee Mashallah Mashallah yay yay yay for me la la la *gringrin*
Monday, November 29, 2004
you break my heart the most when you try to tell me you love me with that knock-kneed earnestness i recognize so well.
the life of an SS major....hahahahahha
Sunday, November 28, 2004
I
There, there is her sadness
Quite deftly articulated.
Though not retreating
She
May be
More quiet
And you may have to come
For her.
She can only reach so far in silence
Without knowing.
II
The dawn brought soft light from
The Twilight of Eve.
I want to step into
The nude sunrise blinding
The moon sharp like cold metal.
-Peach, 26 November '04
flew
away.
it was the biggest finch, the
brightest blue, onyx of
eye and
brilliant of feather. a prize
for any aviary.
it flew
away, i
hope it was
singing
Do I dare
Disturb the universe?
In a minute there is time
For decisions and revisions which a minute will reverse.
For I have known them all already, known them all:—
Have known the evenings, mornings, afternoons,
I have measured out my life with coffee spoons;
I know the voices dying with a dying fall
Beneath the music from a farther room.
So how should I presume?
And I have known the eyes already, known them all—
The eyes that fix you in a formulated phrase,
And when I am formulated, sprawling on a pin,
When I am pinned and wriggling on the wall,
Then how should I begin
To spit out all the butt-ends of my days and ways?
And how should I presume? ..."
Eliot, The Love Song of J Alfred Prufrock (extract)
Saturday, November 27, 2004
Hi there, how r u??? hope 2 b fine
i m IHTESHAM.. and i want to be ur friend, so if u want or interested then reply
me and check out my profile i hope tht u will not refuse the proposal of so nice
nd person after knowing or seeing my profile...ok bye bye take care and do reply me
This message was sent by Ihtesham Zahid to Mina Malik.
kill me now, please kill me :PP
i love being the only one awake. i love feeling like the only one to see me. my playlist is just right, my socks and my fingers are warm, quarter break has begun. i'm going to read, write, play guitar and hang with the homies for a good week or two.
pink grapefruit, mandarin and lime. pear and guava; cranberry, raspberry and elderflower. camomile and spearmint. lemon and ginger. i'd love to make my own herbal tea, move over twinings' gorgeous concoctions.
all at once am i/several stories high/knowing i'm on the street where you live :D too many musicals will be the end of me, i'll become increasingly quite beyond hope and then what'll become of me? *grin*
i've grown accustomed to her face....tra la la.....dr. javed iqbal says that mullahism is the 'static condition of the mind'. i think he's quite spot on, mullahism then being any form of stagnation, not just religious. change, my pets, is most usually a good thing. keeps things sparky and saves you from the crime of terrible dullness and being a cowardy-custard.
Top Ten Reasons To Ban Food at Weddings, by Ayeda
(From the newest installation of The Friday Times..cracks me up one way or another hehe- the parantheses are mine, of course)
10. Eating is a pagan custom (shh! punjab main nahien kehte aisi cheezein :O)
9. Celebrating is a pagan custom
8. Not being miserable is a pagan custom (hehehe)
7. Khoobani ki chutney gives you gas
6. Palag gosht gets stuck in your teeth and wrecks wedding pictures ('palag'?)
5. Naans make you fat (they do not, cancel)
4. It is better to spend money on Land Cruisers than to feed your guests
3. Break cultural stereotypes such as desi hospitality
2. Part of a Zionist conspiracy to turn us all into Hindus (hahahahah)
1. Communal eating today will lead to orgies tomorrow
sitting in shanni khala's dining room, chewing the abck of my pen and staring outside her big picture window- i love those windows; they don't have grilles on them and slide open like a real window should- i was thinking of something suitable to put inside the book i was giving nana. evenings are interesting twilights; white light that lingers in the sky like a camera flash frozen until rose and gold begin to seep through.
my nana is a remarkable man, this is something i have known since i was seven years old. but just how special struck me with such force, that day when i was thinking of something that could condense all the love and respect that i associate with my grandfather, something that would put into so many words all the things i will never forget. i think i owe a lot of whatever creativity i have to nana- he was forever thinking up new adventures for sana and i when we were living with him and nani. you'd think the average grandpa would be pretty boring, but nana? never. he was the one who made hidey-holes with us underneath the dining table, making sure the heater was on so we'd be snuggly, and stocked with colouring books so we wouldn't be bored. he was the one who did nursery rhymes with different voices, and invented funny versions of his own with me. he was the one who created 'the three jews came from jerusalem'- the first time amma sung it for us, i couldn't stop laughing. i almost fell off our double bed :) nana used to take us to rahat bakery every fourteenth of august for vanilla ice-cream cones, the swirly ones out of the machine that we technically weren't supposed to have because they were too germ-infested for amma's approval, which made them even better :D an off-white datsun 120Y, he still drives it. how many men do you know who did things like that for you? nana, who quotes me keats and wordsworth and guards my book with a possessiveness that does me proud. he's so rare, and precious....i wish i could keep him forever. he is the reason i have faith, still. if there is him, there will be others too, in their own way.
there must be
.
Wednesday, November 24, 2004
they dance a flitting
butterfly, weaving
behind smokescreen and
twisted mirror
grotesque, sometimes
sometimes
an eye or a cheek or a heart
too big, sometimes.
frosted glass sunlight and
noonday shadow, silhouetted
leanness against half-shuttered eye-
is your soul small enough to
hide?
the carousel is squawking its
mechanical gaeity- come on,
they're playing your song! i
even know the words, you can
spin into the
smudged paint and stained
tablecloths of your escape. it's
all right, now,
i know you don't see me
Tuesday, November 23, 2004
there are strange things you learn about love at one a.m on a chilly night.
Sunday, November 21, 2004
Take the quiz:
"Which Random Irish Gaelic Phrase Are You? "


Is maith liom bananai
Is maith liom bananai - 'I like bananas.' You're laid-back and you enjoy the simple things in life. Some might say you're a little too laid-back. Just what is it you're smoking, anyway?
Oooh, I fixed the dodgy HTML myself! *proud* Not bad for a banana-lovin' crackhead ;)
Saturday, November 20, 2004
She woke from a dream
Her head was on fire
Why was he so nervous?
He took her to the park
She crossed her arms
And lowered her eyelids
Someday, somebody's gonna ask you
A question that you should say "yes" to
Once in your life
Baby, tonight
I've got a question for you
She'd had no idea
And started to cry
She said "in a good way"
He took her by the hand
Walked her back home
And they took the long way
Someday, somebody's gonna ask you
The question that you should say "yes" to
Once in your life
Maybe tonight
I've got a question for you
I've got a question for you
Question
The Old 97s
Heard this last night in Ahmed's car and loved it instantly :D Go download it! Go! Go! Must learn to how play this too....
there she is!
Instantly in Love
I held her for the first time yesterday. I know she can't focus just yet, but I'd like to think that she was studying my face. She yawned, and stuck her tongue out at me, and made an O with her mouth. Her hands are tiny starfish, her fingers curling around one of mine like sea anemones. I'm fascinated by her perfection. Her big dark eyes, her small snuggly body that fits perfectly in the crook of my arm. Her little head, her eyelids, her skin. The fact that she breathes and sees and cries, that she was the one kicking that night. I want to write stories for her, funny rhyming songs illustrated with google-eyed furry creatures that make her giggle, tell stories with different voices, horse around with a hose in the garden.
Hello, little one; I love you.
Thursday, November 18, 2004
Take the quiz:
http://www.zenhex.com/quiz.php?id=135
"What Disney Princess Are You?"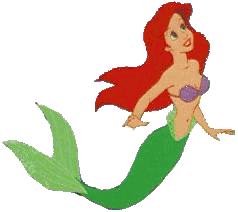 Ariel
You can swim, flip, dive and be one with fish...WHY DO YOU WANT MORE?
*lol* mina is ariel, so surprising ;)
Wednesday, November 17, 2004
Please welcome Daaniyah Mirza!
Mother and baby are fine, can't say much for the balloon-toting, camera-clutching, eye-wiping crowd of instantly smitten aunts, though ;)
Sunday, November 14, 2004
Mina's List of Top Eleven Things to Do On Eid
eat breakfast
eat channay for breakfast
get dressed to the hilt, preen and be showered with spankin' new notes of cash by adoring relatives
visit moldy old cousins-of-your-grandmother and think of ways to avoid eating the suspicious looking cream cake
play football with four and two year olds, barefoot in your aforementioned finery
steal phuppo's car and go eat ice-cream sundaes
have 'the eid picture' taken in the lawn with sana and ali
eat a lot of shami kababs (everyone's trolley has shami kababs)
laugh to tears with the Cousin Brigade over 'Love 86' at least once
get SMSes from everyone and cuss Mobilink's crappy network trying to reply
get to say 'adaab'
Saturday, November 13, 2004
The first two bricks that will turn into a house in a year- laid by Ali, and I, a week ago.
Friday, November 12, 2004
How are we, like
dead flowers
hung upon pendulums.
Our beginnings, directions
breeds, materials
our ends
our limits--all differ.
But in those moments
when our times meet,
don't we dream together?
Of dreams of living?
Perhaps.
Perhaps, we understand very well-
dreams of dead flowers
living.
Dead Flowers
Bilal Tanweer
Thursday, November 11, 2004
this business of 'i never asked for much' is rubbish. if you ask for the moon you might get a star or two, but if all you asked for was a flower you 'aint gonna see nothing but empty air. some things you wish you just didn't know, because knowing equates experience. it's got a negative-sounding air to it, 'experience'.
Monday, November 08, 2004
Some of our last in-conference moments. L-R standing: Sadek, Armenia? Azerbaijan? Azeri, I think. Martin, Barbara (BC guys), Grace, me, Russie, Nayyara in front of us. Sitting L-R: Ilyasu, from Nigeria, Nazareth, Lina from Cairo, Egypt and Dugan (the 'g' is a 'h' and'y' sound kind of squashed together) from Turkey! All jaans!
Newcastle, finally! At The Biscuit Factory, a renovated real-life factory that now houses a lovely art gallery and restaurant. L-R: Rusudan, a.k.a Russie from Azerbaijan, Grace from Nigeria, Indian reporter woman from a Newcastle paper, Shih- something something from Indonesia (sowwie lovie, I'm terrible I know), me, Awatef from Libya, Nayyara from Karachi and Nazareth, sitting, from Armenia!

wasn't supposed to)
higher and
higher, it was
like flying
the rope broke
cleanly.
as she arced
through the sky
she wondered
who will love me if i
can't move my
legs?
what katy did
Sunday, November 07, 2004
i have succumbed, khush hojao hassan. yuck. i feel like shit, shit with an aching chest and two-tonne head and creaky joints and permanent connection to the tissue box. i'm going to go back to my comforter. sniff.
Friday, November 05, 2004
All I want is a room somewhere,
Far away from the cold night air.
With one enormous chair,
Oh, wouldn't it be loverly?
Lots of choc'lates for me to eat,
Lots of coal makin' lots of 'eat.
Warm face, warm 'ands, warm feet,
Oh, wouldn't it be loverly?
Oh, so loverly sittin' abso-bloomin'-lutely still.
I would never budge 'til spring
Crept over me windowsill.
Someone's 'ead restin' on my knee,
Warm an' tender as 'e can be.
Who takes good care of me,
Oh, wouldn't it be loverly?
Loverly, loverly, loverly, loverly
All I want is a wireless-enabled laptop
And a treehouse, and
chewy chocolate-chip cookies and pink
lemonade to live on.
All I want is to
live in a house of books
And write ones to add
to them and
Win a Big Prize.
All I want are fifty babies
And to dance the salsa at my
seventy-fifth wedding anniversary
wearing red high heels.
All I want is to have
lots of pets, and
friends over for dinner
Twice a week.
All I want is to swim
in a clean, blue ocean
as much as I can, to
be able to see all the
stars in the sky at night and
To have enough flowers
to fill up a lawn, a house, a blazer
buttonhole
and the mailbox.
All I want are windows that really
open
, roses that smell good,
laughter that comes from a belly and
watches you pass on for
generations.
Wouldn't it be loverly?
Tuesday, November 02, 2004
she's got her a
stomachful
of baby, juicy
them-flesh pointed
downwards
(ready, set,
go)
i could eat her, bite
her like a peach
- mouthful of
soft sweet skin
she's just so
ripe
nine months
Monday, November 01, 2004
sitting in class. a
yawn
bubbles,
s t r e t c h i n g
over my empty insides- i
hunger
(perhaps this light
head will take me
to
heaven)
for God